Source:
China Daily
Diplomatic game of hockey
Published:
27 Jan 2014 22:18:25 PST
02-Oct-2013
Chen Jia in San Francisco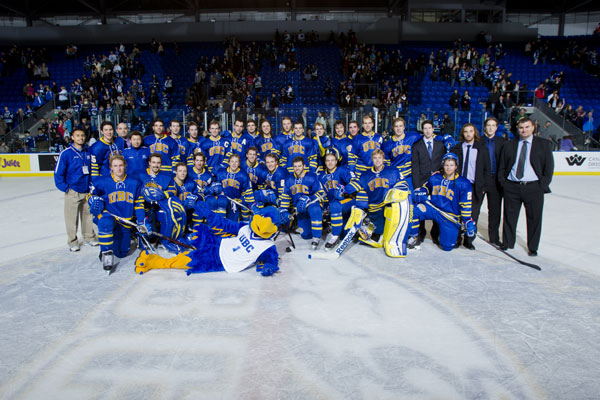 Team members of the UBC Thunderbirds posed for a group photo on Oct 17, 2012. Bob Frid / For China Daily
While ping-pong may have thawed tensions with the US, hockey built the bridge between China, Canada
Bob Hindmarch is a name that is all too familiar to many Chinese athletes at the University of British Columbia (UBC), where Canada's National Hockey Program was born.
"I have made many Chinese friends during the six or seven times I have toured China since my first visit to the country in 1973," Hindmarch, UBC's most successful Thunderbirds hockey coach, told China Daily.
When Canadian Prime Minister Pierre Elliot Trudeau recognized the Peoples Republic of China in 1970, it began a process of cultural exchange in which sports were an integral part.
The Canadian delegation in 1973 included Hindmarch as a coach and trainer, a representative from the Canadian Amateur Hockey Association, a representative from the National Film Board of Canada, and 21 players aged 17 to 22.
"The Canadian government, through the Canadian Amateur Hockey Association, asked UBC if we would represent Canada, and of course, we were absolutely thrilled and delighted, and honored to be chosen," Hindmarch said.
"We were well aware there had, up until that time, been no Canadian sports teams that had gone to China to compete, and it was also special for UBC because Vancouver is home to a very large Chinese population, with one of the largest Chinatowns in North America," he said.
The members of the Canadian delegation made careful preparations for that historic trip.
A professor from the Department of Asian Studies who was a historian of Chinese culture gave the team a couple of lectures prior to their departure. He talked about Chinese customs and traditions and gave them a brief introduction to the language so that athletes and the coach could express basic manners and pleasantries.
The government of Canada provided the delegation with special uniforms for players and team apparel suitable for winter environments.
"We took UBC and CAHA pennants and pins to exchange with the players as well as special Canadian-made souvenirs to present to the team and local officials. We also took a lot of little gifts to give to children, and were really glad we did because we met hundreds of them!"
|||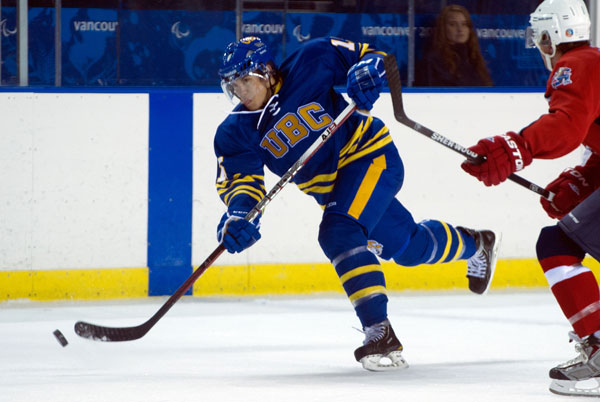 UBC defenseman Jason Yee played in an exhibition game in September 2012. Rich Lam / For China Daily
During the trip, delegation members accepted interviews from Chinese and Canadian journalists, and the tour was filmed for a documentary.
"Not surprisingly, most of the questions were about Canada, and hockey in particular, such as how often did we practice, how often did we play games, and what were our ice hockey facilities like," he said.
"Usually the next question was how do we like China, and my response was that the people were very, very friendly, but shy."
The fans kept chanting, "Friendship first, competition second", and that soon became the theme song for our trip, he said.
As for the most impressive day during the trip, Hindmarch said the visit to Changchun stood out in particular.
"We conducted a practice with both teams, which fans were allowed to watch, and then they emptied the arena and then filled it up again for our game," he said.
But more fans showed up to watch the game than the arena could hold. The Canadians were asked to play a second game, and the Chinese officials emptied the arena and filled it back up again, he said.
"I bet we played before about 60,000 fans that day, surely a record in the annals of hockey history," he said.
"Additionally, while we were in Changchun, our Chinese hosts took us on a shopping expedition to a large department store, but again so many people wanted to see us and get close to us that once news got out we were in the building it soon became so jam-packed that we could not move," he said.
The team had to be brought back after the store closed so that they could shop without interruption, said.
"Sport is one of the best ways to meet people of other nationalities, and to break down barriers between countries. People love sport. They love to touch it and be a part of it," he said.
Sports are universal because athletes all play by the same rules, he said.
"We were extremely proud that UBC Thunderbird athletics played a part in that, and in fact, UBC has since become the most active university in Canada with regard to international sporting exchanges," he said.
"Today, sports still play the same role between two countries with different culture, and I really do not think that will ever change."
His latest tour to China was five years ago, and China's rapid growth and development left an impression on him, he said.
"Your country is to be much commended for its total development, upgrading of wealth, and buildup of infrastructure, such as modern architecture, high-speed trains and the like," he said.
In the past, most of the hockey players in China came from the north, but over the years, this has changed as the sport has spread to more regions, he said.
"This has deepened the talent pool, which increases overall abilities, and Chinese hockey has come a long way over the years since," Hindmarch said.
"Chinese sport, as the world saw during the Beijing Olympics, has made incredible strides, due to better facilities, training of athletes and coaching."
chenjia@chinadailyusa.com
|||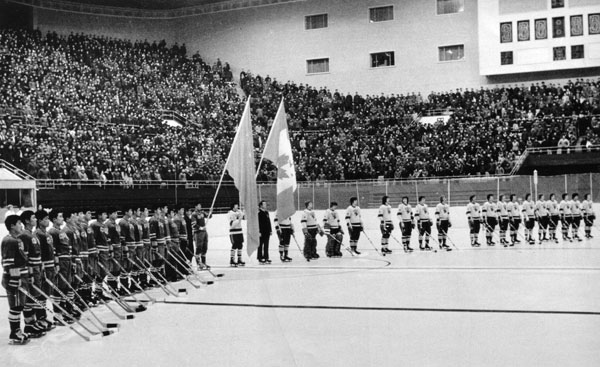 The UBC Thunderbirds and a Chinese team attended an opening ceremony of a game in Beijing in 1973. Thunderbirds Archives / For China Daily