Source:
China Daily
Kerry calls shutdown a brief disruption
Published:
27 Jan 2014 22:18:25 PST
05-Oct-2013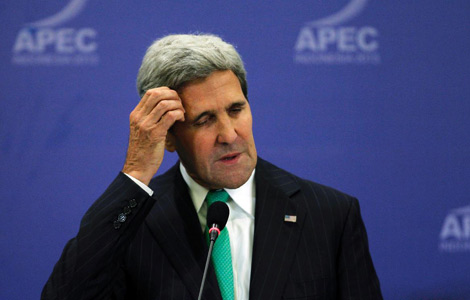 U.S. Secretary of State John Kerry gestures during a news conference at the Asia Pacific Economic Cooperation (APEC) ministerial meeting in Nusa Dua, Bali island October 5, 2013.?[Photo/Agencies]?

The shutdown of the U.S. government is a "momentary episode" and does not change the U.S. commitment to Asia or elsewhere, Secretary of State John Kerry said on Saturday.

Kerry is acting as stand-in for President Barack Obama who canceled his Asia tour, including to the Indonesian resort island of Bali for a meeting of Asia-Pacific leaders, because of the stalemate in Washington over the government shutdown.

"Do not mistake this momentary episode in American politics as anything more than a moment of politics. This is an example of the robustness of our democracy," Kerry said. But he added that if the shutdown were prolonged or repeated, people would question the U.S. ability to "stay the course".