Source:
MarketingProfs
B-to-B Marketing in 2008: Trends in Strategies and Spending
Published:
20 May 2015 00:10:01 PST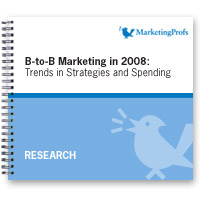 In a MarketingProfs survey fielded in October and November of 2007, marketers reported that they are generally optimistic about their budgets for 2008. Almost half of respondents said their budgets would increase over 2007, with average growth expected to be 26%. Just 6% said their budgets would decrease, with an average expected decline of 18%. This 47-page research report includes a full scope of behavioral and attitudinal measures, with the results depicted in over 30 charts throughout.