Source:
MarketingProfs
Benchmark Research on Marketing in the Economic Crisis
Published:
19 May 2015 22:21:18 PST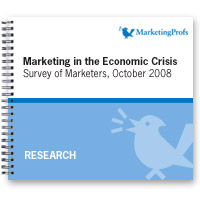 As companies make changes to survive the economic downturn, their managements often choose marketing as the first candidate for cost cuts. To keep marketers current during these turbulent times, MarketingProfs conducted a survey of members in companies of all industries and sizes to determine how this economic crisis is impacting marketing plans and projections for 2009.


Two-thirds of respondents (68%) believe the current economic crisis will have a negative impact on their business, with detrimental effects anticipated more often by marketers in large organizations (75%) than those in medium (70) or small (65%). Already, 30% claim to have made spending cuts (43% of marketers in large companies), and 22% have made budget reallocations.

These and many other findings will help you understand how your current standing compares to others like you.