Source:
MarketingProfs
Twitter Success Stories
Published:
19 May 2015 22:26:53 PST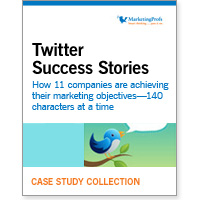 The Twitter trend has everyone tweeting messages, from the silly to the serious. In the right hands, however, this social-media tool rises above ordinary chit chat and transforms into a far-reaching, powerful business tool.

Our case study collection, Twitter Success Stories: How 11 companies are achieving their marketing objectives, 140 characters at a time, demonstrates the impact and immediacy that Twitter can bring to your business. Learn how 11 companies—from startup Kogi Korean BBQ to the established Dell—plus one sports celebrity used Twitter to reach potential customers and devoted fans directly, without paying high marketing costs. These Twitter-savvy business owners increased their sales, built brand awareness and established strong community presences, one tweet at a time.

Inspired by these simple yet highly effective Twitter case studies, you will want to check out the collection's 7 Tips to Getting Started to see how you can re-energize your business. And to save you time digging through the endless websites full of Twitter resources, we're naming the top Twitter tools to help you start making an impact on the social-media scene.