Source:
MarketingProfs
Mobile Marketing Success Stories
Published:
19 May 2015 22:32:31 PST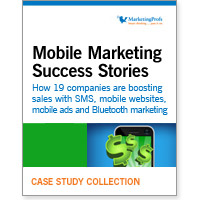 With more than 3 billion people around the world using mobile phones, mobile marketing is clearly an area that all marketers should embrace. Once you get started with a good mobile marketing plan, you'll be hard-pressed to find an easier, less expensive, and more profitable way to immediately capture the attention of new and potential customers anywhere at any time.

Our case-study collection, Mobile Marketing Success Stories: How 19 companies are boosting sales with SMS, mobile websites, mobile ads and Bluetooth marketing, shows you how B2B and B2C companies are using mobile technologies to achieve huge results.

You'll learn valuable lessons from the mistakes and successes of 11 B2C and 8 B2B companies. For instance, you'll see how Kraft Foods used mobile marketing to cut costs and still get its product samples into the right hands. And you'll get insight on how Adobe used mobile technology to moderate the flow of attendee traffic through two San Francisco-based venues.

Throughout Mobile Marketing Success Stories, you'll find mobile strategy tips, mobile marketing ideas, and all the tools you need to build a strategy that works for your business. Let this case study collection give you the inspiration, ideas and know-how needed for success in mobile marketing.