Source:
MarketingProfs
Mobile Marketing Factbook
Published:
19 May 2015 22:40:02 PST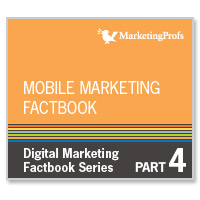 Part 4 of the Digital Marketing Factbook series, Mobile Marketing Factbook (139 pages and 99 charts) is made up of Chapter 1 (The Digital World) and Chapter 5 (Mobile Marketing) of the Digital Marketing Factbook. Reflects 2009 data.
Consumers can't get enough of their smartphones, and companies like Apple are taking advantage of this by building products that enable people to use their mobile devices to do just about anything. Needless to say, the opportunities for mobile marketing are endless. So where do you begin?
The Mobile Marketing Factbook delivers the latest and greatest research and statistics on how you can use mobile marketing campaigns to reach broader audiences than you thought possible. With unique information on everything from advertising on wireless Internet browsers to location-based marketing strategies, the 99 charts and graphs in this book will help guide your mobile marketing plans every step of the way. Our research team took great care to bring you the most relevant information from the most reliable sources, resulting in a book that helps you clearly understand how different demographics are using mobile marketing and how you can best reach out to them.
Interested in more than mobile marketing?
The Mobile Marketing Factbook is Part 4 of the complete Digital Marketing Factbook, which includes six digital marketing chapters—The Digital World, Email Marketing, Search Marketing, E-Commerce, Mobile Marketing, and Social Media Marketing. Buy the Digital Marketing Factbook (our 296-page full report), and get all six chapters bundled together at a substantial discount.
Available for individual purchase: