Source:
MarketingProfs
Social Media Integration Success Stories
Published:
19 May 2015 22:58:53 PST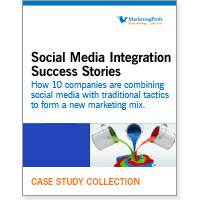 Social Media Integration Success Stories features hands-on case studies that illustrate how 10 companies are successfully integrating social media into their traditional marketing mix. Examples include 3M's Post-it campaign, which boosted sales and benefitted breast-cancer research via Project Runway and Activision's creation of an online destination for Guitar Hero fans. You'll read about what works, what doesn't, and learn how to:
Increase Your Reach: See rich examples of exactly how other companies are extending their reach through social channels.
Grow Your Subscriber Base: Learn how other companies are gaining opt-ins and getting people to ask to be marketed to through their Facebook marketing.
Generate Referrals: Learn the various approaches to leverage customer loyalties and generate word of mouth.
Nurture Leads: See how social media is helping other companies stand out in their prospects' minds.
Improve the On-Site Experience: Discover how a leading retailer grew its Fan count from 2,000 to more than 35,000, while improving the on-site experience for its users.

Each case study closely details the tools and approaches used, and is full of actionable advice you can apply to your campaigns immediately. You'll discover cost-effective ways to maximize your traditional marketing reach by adding social media to the mix.