Source:
MarketingProfs
Influencer Marketing Success Stories
Published:
19 May 2015 23:02:20 PST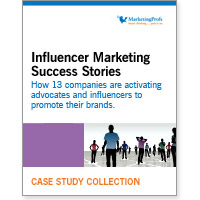 In case you haven't noticed, the power of word-of-mouth is becoming an increasingly powerful force in marketing for the simple reason that the opinions of trusted individuals carry more weight than the often impersonal voice of promotional copy. Influencer Marketing Success Stories features 13 companies that have leveraged the influence of outspoken opinion-makers and ordinary online reviewers to achieve their marketing objectives.
With examples from Forbes Digital, Virgin America, SAP, PRWeb, and more, this new Case Study Collection will show you how to use influencer and word-of-mouth marketing to:
Boost brand awareness: Harness an influencer's popularity by making concrete connections between their personal brands and yours.
Foster third-party credibility: Motivate happy customers to share brand and product experiences in their own words.
Introduce new products and services: Generate buzz around your latest launch by supplying the public with the tools—and motivation—to spread the word.
Increase sales: Maneuver your way up the chain of command and do wonders for the bottom line.
Improve customer relations: Deliver ongoing value for customers by associating them with the people they admire and respect.
Each case study details the tools and approaches used, the outcomes achieved and the lessons learned, as well as a list of insightful tips for getting started. By the time you finish reading, you'll be ready to launch your own influencer campaign in support of your marketing goals.