Source:
MarketingProfs
No-Nonsense Media Mix Guide for Your Marketing Plan
Published:
19 May 2015 23:32:49 PST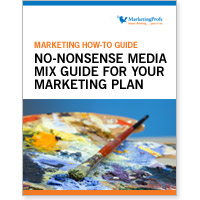 When planning your next marketing campaign, it's all too easy to limit your thought process to "We've got TV, radio, and Internet. Boom. Done." Not so fast.
Your media options are so vast it's almost mind-blowing, and new methods of getting your brand and message out there are popping up rapidly. To make an informed decision (and not settle for just TV, radio, and Internet), you need to do your research—and we're here to help.
This 36-page guide will help you explore your options and choose the media mix that will work best for reaching your target audience while working within the boundaries of your budget.
You will learn:
Best-practices for crafting effective marketing plans
The marketing media that are available today
Cost-related information, pros and cons, and tactical tips for each medium
If you're a marketer or small business owner looking to get the most out of your next marketing plan by choosing the right media mix, you need this guide.
Note: File download size is 138MB.