"No other B2B portal gave us what Alibaba does!"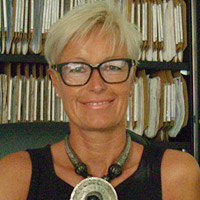 Member:
Ms. Laura Suardi
Company:
LAURA SUARDI SAS DI SUARDI LAURA&C.
Location:
Italy
Industry:
Lights&Lighting
Gold Supplier member since:
2007
Website:
http://suardi.trustpass.alibaba.com/

My name is Laura Suardi and I'm the owner of LAURA SUARDI SAS, a small company located in North Italy in an industrious business area.
While surfing the net in 2005, I found Alibaba.com and immediately understood that it was an important B2B portal. I confirmed this feeling later when I realized Alibaba.com was quoted on the stock exchange.
So after one year and a half as a free member, I decided to upgrade our business to Gold Supplier. I had some doubts, but they were removed very fast. Actually, it was a smart investment, as we started receiving more and more professional inquiries from all over the world, including new markets where we previously had no presence. We have closed several good deals and still have good customers thanks to Alibaba. Most recently, we had the opportunity to supply our lighting to a resort in Kenya.
This portal is very dynamic. In recent years they have added very useful tools that help you better understand and communicate with other members. One tool, RFQ's, offers you the opportunity to make accurate quotations to quality buyers.
In addition, we are glad to say that we constantly receive very professional sales support. Our products have been and will be promoted with our company information in Alibaba.com tradeshow industry brochures, which will be distributed at leading international tradeshows. This should help us gain direct, targeted exposure towards major trade show buyers.
No other B2B portal gave us what Alibaba does. Thank you!