MY country profile
Published:
07 Sep 2011 18:36:23 PST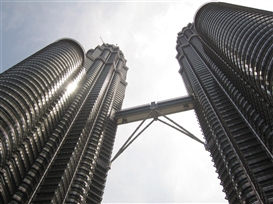 Malaysia boasts one of south-east Asia's most vibrant economies, the fruit of decades of industrial growth and political stability. Consisting of two regions separated by some 640 miles of the South China Sea, Malaysia is a federation of 13 states and three federal territories. Its multi-ethnic, multi-religious society encompasses a majority Muslim population in most of its states and an economically-powerful Chinese community. Dense rainforests in the eastern states of Sarawak and Sabah, on the island of Borneo, are a refuge for wildlife and tribal traditions. Ethnic Malays comprise some 60% of the population. Chinese constitute around 26%; Indians and indigenous peoples make up the rest. The communities coexist in relative harmony, highlighted the upright coordination of the country. The country is among the world's biggest producers of computer disk drives, palm oil, rubber and timber.
Country and population overview:
Ø Full name: Federation of Malaysia
Ø Government type: constitutional monarchy
Ø Population: 27.9 million (UN, 2010)
Ø Capital: Kuala Lumpur
Ø Currency: ringgits (MYR)
Ø Area: 329,847 sq km (127,355 sq miles)
Ø Major languages: Malay (official), English, Chinese dialects, Tamil, Telugu, Malayalam
Ø Major religions: Islam, Buddhism, Taoism, Hinduism, Christianity, Sikhism
Ø Population median age: 25.0 years
Ø Life expectancy: 73 years (men), 78 years (women)
Ø Total telephone subscribers as % of population: 104.23%
Ø Internet users as % of total population: 57.61%
Ø Internet domain: .my
Ø International dialing code: +60
Trade and competitiveness overview:

Current account balance: US$ 28.2 billion
Current account balance by percentage of GDP: 11.4% of GDP
Exports as percent of GDP: 123.1%
Total exports: US$210.3 billion f.o.b
Export commodities: electronic equipment, petroleum and liquefied natural gas, wood and wood products, palm oil, rubber, textiles, chemicals.
Total imports: US$156.2 billion f.o.b.
Import commodities: electronics, machinery, petroleum products, plastics, vehicles, iron and steel products, chemicals
Exports - major partners: US 15.6%, Singapore 14.6%, Japan 9.1%, China 8.8%, Thailand 5%, Hong Kong 4.6%
Imports - major partners: Japan 13%, China 12.9%, Singapore 11.5%, US 10.8%, Taiwan 5.7%, Thailand 5.3%, South Korea 4.9%, Germany 4.6%, Indonesia 4.2%


GDP and Economic Review:

Ø Central bank: Central Bank of Malaysia
Ø International Reserves: US$ 108.97 billion
Ø Gross Domestic Product – GDP: US$ 247.781 billion (2010 estimate)
Ø GDP (Purchasing Power Parity): 442.01 billion of International dollars (2010 estimate)
Ø GDP per capita - current prices: US$ 8,624 (2010 estimate)


Inflation: 2008 2009 2010 2011
*Estimate 5.4% 0.6% 1.7% 2.8%


Unemployment rate: 2008 2009 2010 2011
*Estimate 3.3% 3.6% 3.3% 3.2%

Government bond ratings:
Standard&Poor's A-/Stable/A-2
Moody's rating : A3
Moody's outlook: STA