"I never thought I could get business so easily!"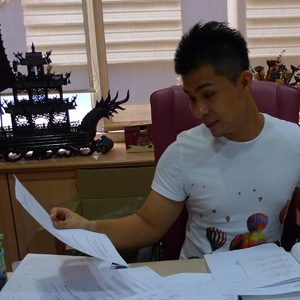 Member: Zheng Hao
Company: Federlite Sdn Bhd
Location: Malaysia
Industry: Office&School Supplies
Gold Supplier since: 2006
Website: http://feltonadmin.trustpass.alibaba.com/







Carrying the FELTON brand name since 1983, Federlite Sdn Bhd manufactures plastic products such as stationery, D.I.Y, household products, CD storage products and bathroom accessories. It all started when Mr. Zheng Hao, director of Federlite Sdn Bhd, saw his son carrying a disc case and was inspired to start a trading business importing disc cases. Now Federlite manufactures many types of plastic products of its own.

When Mr. Zheng Hao first traveled to China for a factory visit, he was impressed by the number of Alibaba.com ads he saw and decided to join as a free member to source cloth racks. He ordered 4 containers of different types of cloth racks and he found that their quality exceeded his expectations. Mr. Zheng then said to himself, "If I can buy quality goods from Alibaba, why don't I sell my products on Alibaba.com too?".

After becoming a Gold Supplier in 2006, Mr. Zheng gets between 10-20 inquiries on average, each day. "It's amazing! I never thought I could get business so easily!" said Mr. Zheng. He realized that his Company Website on Alibaba.com is very important. For example, the products he displayed should offer different colors and specifications. Displaying all the colors that the product is available in makes the listing look more professional. Most importantly, catching the attention of potential buyers and giving them a good impression of your company is important. Mr. Zheng believes that, as compared to traditional commerce method, e-commerce saves a lot of travel time and money and will therefore be a global trend of increasing importance.