"We exported US $14 million within the first 6 months of 2011!"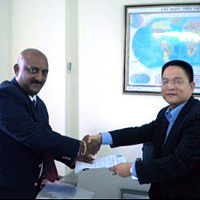 Member: Mr. Pham Doan Chung, Director
Company: Sun JSC
Location: Vietnam
Industry: Minerals
Gold Supplier since: 2009
Website: http://sunjsc.trustpass.alibaba.com/






Founded in 2000, Sun JSC mainly produces and exports fibers and minerals. Renamed Sun JSC in 2008, they have 10 years of experience in the export sector, and enjoys a good position in the market today.
In the beginning, Sun had difficulty finding markets for their products. Besides direct sales, Sun decided to use e-commerce and registered as a member of Alibaba.com in order to reach importers world-wide. This decision helped their sales significantly.
Mr. Pham Doan Trung - Director of Sun JSC said, "During our first year as a Gold Supplier, our revenue was only a few hundred thousand dollars. However, in the second year, we got more support from Alibaba.com and OSB on posting information and advertising our image and brand. After the first half of 2011, our export turnover increased to US $14 million. This was a really good and fast break through thanks to e-commerce".
Currently, Sun's customers are mainly from South America, Eastern Europe, North America, Southeast Asia and Western Europe. After finding and communicating with Sun on Alibaba.com, many buyers went to Vietnam to visit their factory and office, and signed a contract with Sun.