The advantage of internet marketing is achieving maximum exposure with minimum cost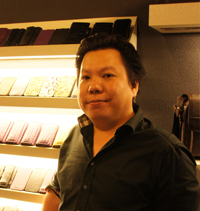 Member: Mr. Grace Lin
Company: PTOWKING CO., LTD.
Location: Taiwan
Industry: Textiles&Leather Products
Gold Supplier member since: 2011







PTOWKING Co., Ltd. established a model of innovation in management, and attributed its success to the craftsmanship of its genuine handmade leather cases and customized service.
Unlike other companies which produce a limited range, "PTOWKING's customized service offers customers more than twenty thousand combinations in style, leather material, and accessories. There are 60 to 70 different texture styles of leather, and this leather is taken from the first layer of cow skin, which has a natural bright glossy appearance. That's our advantage and is the basis to from which we establish differentiation from the other competitors in the customized market." said Wa Jie Yan.
PTOWKING has a good variety of customized leather products such as mobile phone cases, tablet cases, wallets, purses, as well as small leather goods. There are as many as 25 different styles for mobile phone cases, like horizontal fold, PDA flip-up, match box, shell-shaped, glasses case-- everything you'd expect.
PTOWKING was already using the Internet to market their goods, which brought them individual orders. However, when it comes to customized service, the ideal targets are business buyers. That is the reason why they chose to open the shop on Alibaba.
"The advantage of internet marketing is achieving maximum exposure with minimum cost," Wa-Jie Yan explained, "we indeed received many inquiries from north Europe, USA, Japan, etc. through Alibaba. Some request for ODM; others want to be brand agents; PTOWKING Co., Ltd are open to request for introducing their customized service. As long as they are looking for quality rather than low-price, we would not refuse their request. The way of doing business should not be self-limited."
Wa-Jie Yan values the tactile experience of one needle with one stitch, which was admired by a buyer from Denmark, who was impressed with their technique, after product trials and further investigations. He has become a loyal customer. Wa-Jie Yan also shared the essence of customized know-how with a Turkish buyer who then copied the business model to make other customized products in their own country.