Our small size and Alibaba.com allow us to offer our customers low prices on custom orders on their timeline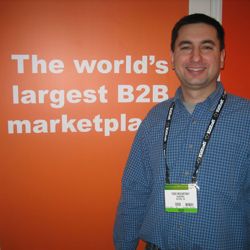 Member: Todd McCartney
Owner, AeroPro
Location: Milford, New Hampshire, USA
Industry: Promotional Products
Member Since: 2006











In 2004, Todd McCartney turned his hobby of co-owning a number of websites dedicated to die-cast model aircraft into AeroPro, a promotional products company designed for the airline industry. It all started when he was approached by a vendor familiar with his website who was looking for a distributor to sell promotional products in the US. Without any background in the promotional products industry, Todd decided to give it a try and began learning the industry by trial and error.
Shortly after securing his first big deal with a major US airline, one of Todd's customers approached him looking for additional products that his original supplier didn't offer. Eager to meet the demand and expand his business, Todd began using Alibaba.com to search for additional products.
"I kind of stumbled across Alibaba.com through Internet searches, but I found the level of security and design of the site to be much better than any available competitors," said Todd. "By using Alibaba.com I was able to increase my margins, provide quality products for my customers and lower their costs by as much as 300 percent."
Over the years Todd's business and the promotional products industry continued to change. Todd credits the Internet and Alibaba.com for allowing him to change with the industry by offering his customers what they want, when they want it.
"Our small size and Alibaba.com allow us to offer our customers low prices on custom orders on their timeline. This is a distinct advantage in our competitive industry," said Todd.
Now Todd is taking what he's learned with AeroPro and expanding his business into three new areas: Promo-Pro.net, promotional products for every industry; Kids@HeartToys.com, an online toy shop; and AeroLePlane.com, a retail site for model aircraft and aviation collectibles.
Todd comments, "I'm taking everything I learned from using Alibaba.com for the airline industry and am applying it to my new companies. I'm excited about the many opportunities for growth."