Taipei Computer Association
Published:
26 May 2010 22:26:26 PST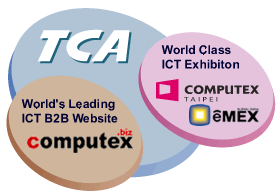 The Taipei Computer Association (TCA), established in 1974, is the leading industrial organization in Taiwan. Its 4,000 members are engaging various fields such as software, hardware, semiconductors and components, manufacture, sales, network communication service and etc., thereby generating over 80% of the total production value of Taiwan's ICT industry. TCA's offices located in Taipei, Taichung and Kaohsiung while overseas offices in Suzhou, Beijing, and Guangzhou, China; and in Tokyo, Japan.

TCA offers its members the following services: lobbying, e-learning, domestic and overseas exhibitions, industry related information, skills training etc. Pursuing growth of the ICT industry, TCA, in collaboration with member companies and government, addressing issues concerning minority groups and the reduction of the digital gap between urban and rural areas, realizing the vision for Taiwan to become an island where technologies are truly applied.
World's Leading ICT B2B website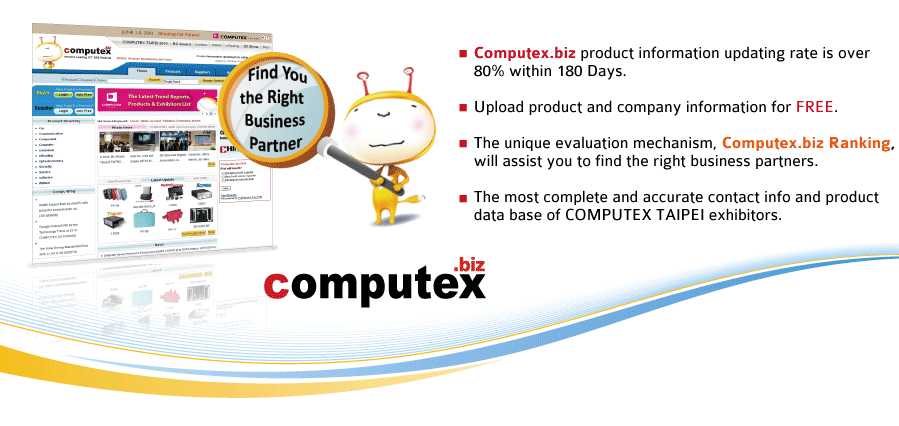 One of the largest ICT B2B websites around the world:

www.computex.biz


Computex.biz is a professional B2B website for the ICT industry. Launched in 1996 by the Taipei Computer Association, it was established to extend the effect of the world renowned COMPUTEX TAIPEI and has been its official website ever since. TCA successfully integrates COMPUTEX TAIPEI and Computex.biz to create boundless business opportunities for its members.
See more about Computex.biz
World Class ICT Exhibition
| | |
| --- | --- |
| COMPUTEX is co-organized by private sector Taipei Computer Association (TCA) and government-funded Taiwan External Trade Development Council (TAITRA). It is the largest ICT exhibition in Asia and the most influential ICT procurement platform in the world. | The electronics Manufacturing Exposition (eMEX) Suzhou China is directed by several government agencies of People Republic of China, and also organized by Suzhou Municipality, in addition to co-organized by Taipei Computer Association. |
See more our exhibitions