Source:
Infomedia
Kerala plans hi-tech dairy farm
Published:
08 Jun 2009 22:41:13 PST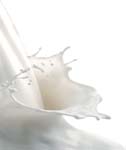 The Kerala government is setting up a hi-tech dairy farm at Kulathupuzha in Kollam district as part of its efforts to attain self-sufficiency in milk production. C Divakaran, minister for food, civil supplies and animal husbandry, said that the farm would be the first of its kind under a state government in the country. Estimated to cost Rs 50 million, it would have all the modern facilities, including technology from European countries. The farm, being implemented under the National Project for Cattle and Buffalo Breeding of the Centre, will have the facility to keep 200 high-yielding cows, producing 1.40 lakh litres of milk annually. The farm will have selected high-productive cattle from the Jersey, Holstein Friesian varieties and sub-continental types like Gir.
All information concerning each animal - pedigree, milk yield, feeding patterns - will be stored in a computer chip inside a transponder that the animal will carry on its neck.
Kerala is deficient in milk production and is buying milk from neighbouring Tamil Nadu and Karnataka for distribution among the people.