Alibaba.com unveils Vietnamese Coffee Industry to the world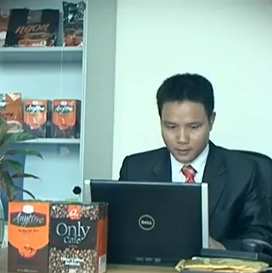 Member:
Mr. Jonathan Nguyen
Company:
Nhan Minh International Ltd.
Location:
Vietnam
Industry:
Food&Beverage
Gold Supplier member since:
2011
Website:
http://qcoffee.trustpass.alibaba.com

At the end of July 2012, Vietnam has exported 1.2 million tons of coffee, worth 2.5 billion U.S. dollars, an increase of 31.6 percent in volume and 25.4 percent in value year-on-year, making the country the number one coffee exporter in the world.
Nhan Minh International Ltd. was established by Mr. Nguyen in 1995, which is the 3rd biggest coffee manufacturer in Vietnam. "I understand the value of Vietnam coffee, but international customers do not. I wanted to do something to help Vietnam Coffee industry, plus to improve local coffee producers /farmers' business", said Mr. Nguyen. That was Mr. Nguyen's mission when setting up his company.
Nhan Minh started with just 10 staff, the company faced a lot of challenges at the beginning. First, the brand Q-Café was a new brand in overseas market. Second, international consumers know nothing about Vietnam Coffee, what kind of beans, taste, etc. Thirdly, Nhan Minh didn't have much knowledge on international trading, western culture plus how people outside Vietnam appreciate coffee, etc. "We did some product surveys with our existing customers, however, we still didn't get many new orders", added Mr. Nguyen. Mr. Nguyen understood that they have to make some changes to the business model in order for better market penetration, segmentation, plus finding new direction for their coffee brand.
While working for Microsoft Asia Pacific, Mr. Nguyen had a chance to come across with Alibaba.com. He signed up as free member immediately since he thought it sounds like a new way in finding new customers. "I noticed the benefits of being a "Gold Supplier" on the platform are something I have been hoping to achieve. I knew this is a new direction for connecting with international markets and customers," Mr. Nguyen then signed up as Gold Supplier. "We usually get 30-40 inquiries per month, around 1-1.5% of these inquiries turned into real orders, said Mr. Nguyen.
Nhan Minh is spending over 5 hours a day on Alibaba.com and carries out product update every 2 weeks. "We deeply believe that it is a professional website, with unlimited product posting, and great opportunity to connect with customers around the world. In addition, we can manage our account online anytime, plus participating in forums, and community channel for importers, said Mr. Nguyen.
Nhan Minh now has developed a lot of new international markets through the platform effectively, which they cannot do so in the past. Nowadays, Q-Café is a well-known brand within the industry.