E-commerce helps us to expand our overseas market remarkably !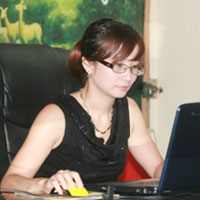 Member:
Ms. Nguyen Thi Huyen (Deputy Director)
Company:
Dong Duong Production Joint Stock Company
Location:
Vietnam
Industry:
Agriculture
Gold Supplier member since:
2007
Website:
http://spice.trustpass.alibaba.com/

Dong Duong Food is a small family business with over 50 years experience in manufacturing, processing of spice and agricultural products.
Being in the industry for such a long time, plus refreshing the company's business strategies continuously, Dong Duong Food has been recognized as a highly trusted supplier in a wide range of spice and agricultural products, for both domestic and overseas markets.
Dong Duong was found in 2007 by Mr. Chu Van Dong, Dong Duong's General Director and Ms. Nguyen Thi Huyen, Deputy Director. "My husband and I only know how to sell through traditional methods when the company first setup, develop network in local market, agents and supermarkets, etc. However, it was very time consuming and caused a lot of trouble. For the first 3 years, we have to travel from South to North in order to visit all spice farms to build the supply chain", said Ms. Huyen. In addition, they were facing financial problem, competition and quality issue of products as well.
After almost a year building the local supply chain network in HCMC, the couple has gathered a lot of knowledge in new selling methods from clients and friends. They then realized that it was time to try something new, and to connect with rest of the world.
"When we were searching for online marketing tools to help expanding domestic business, we found Alibaba.com", Ms. Huyen said. "We signed up as free member at first, and hoping to expand our business to overseas through exporting our products. However, due to lacking of global trade knowledge and experience, we didn't know how to response to inquiries and missed a lot of orders. Later, we realized that a trustworthy and experienced paid member is what global buyers are looking for on Alibaba.com", added by Ms. Huyen. Then Dong Duong signed up as Global Gold Supplier in 2007, and without waiting for long, they witnessed the surprising results.
Ever since signed up as a Global Gold Supplier, Dong Duong receives over 200 inquires in average every month. "Trade Manager makes communication with overseas buyers a lot easier and RFQ service helps us to convert approx. 5 to 10 inquires into real orders monthly", said Mr. Dong. Mr. Dong was very happy with the impressive result being a GGS in such a short period of time and quickly invested another membership for their subsidiary company – Dong Duong Dragon. "We have established a trustworthy image and building good partnership with some of the great potential markets, such as Russia, India, Bangladesh, Uruguay, Iran and Brazil. Our quarterly revenue is reaching USD 2 million approximately", Mr. Dong added.
Today, Dong Duong has their own spice processing factory, and pre-production treatment factory for agricultural product in Hung Yen. Later in 2012, another cinnamon processing factory in Yen Bai will start production. They have also opened 1 office in Hanoi and another one in HCMC this year.
Under the acceleration of the negative economic, it is not easy for small businesses, including here in Vietnam. What we can do is to continue manufacturing good quality products, explore new opportunities in local segments or overseas markets. In addition, e-commerce can really give you a great help and save a lot of your time and energy", shared by Mr. Dong.