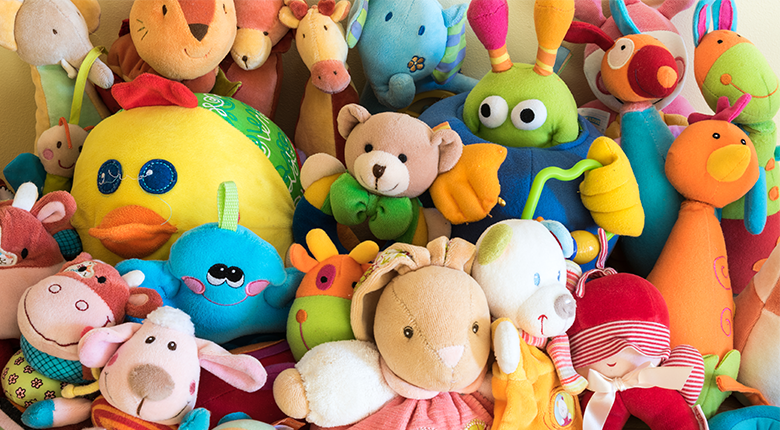 They knew they had to innovate and try something new, but whatever it was they would have to do it fast - or else there might be nothing left of their family business in a year or two.
The Dubois family in Montreal, Canada have been wholesale distributors for toys and games since the early nineteen eighties. Pierre and Denise lost count of the number of stuffed toys in the house where they grew up, but managed to learn the basics of the business when they found time in high school as well as in college to help their parents during busy seasons. The siblings eventually took over the wholesale operation, and it landed them their first big test as business proprietors: to help their inventory of generic stuffed toys compete against brand-name merchandise, and regain market share gobbled up by licensed products based on Hollywood animation blockbusters.
It was Denise who might have stumbled upon the answer. She dressed up a teddy bear as a Red Indian Chief with hand-made regalia and feather headdress, and gave it to their niece for her birthday. The little girl posted a photograph of her birthday present on Facebook, and it went viral that very same day. Denise was inspired by the experience and persuaded her brother to try dressing their stuffed toys in ethnic costumes, for example plush koalas in khakis and bush hats or cute polar bears in Eskimo hooded fur coats. Pierre loved the idea, but worried about the challenge: they knew everything about product procurement when it came to toys and games, however, they hardly knew anything about sourcing apparel items.
One of their Canadian board game suppliers referred them to Alibaba.com, and they eagerly gave it a try. After signing up for a buyer account with their laptop, they browsed the website and clicked the "Wholesaler" section on the homepage. A long list of categories appeared, with "apparel" taking the top spot. Then, they were overwhelmed by screen after screen of entries appearing under that category, including those for garment buying agents and consultants who offered services ranging from trade advice to sourcing as well as logistic support. With no idea where to begin and what to look for, the pair was helpless and felt a strong temptation to delegate their job to one of the agents.
Instead, they decided to push on. Denise wanted to narrow down their choices, but dithered between entering "ethnic costumes" and "children wear" (for extra small size garment) into the search box. She tried both, and then realized it would still take them the whole day to sort out all the search results. Frustrated but undaunted, they caught a break with Alibaba.com's "Buying Request Hub" . Rather than sifting through a long list of suppliers with difficult-to-pronounce names, they could simply fill out an online form to solicit quotations from prospective vendors -- but only if they could pin down their product in precise, technical terms. It was a real challenge since they could hardly distinguish wovens from knits! Finally, Pierre came up with an ingenious solution: he attached a video clip of polar bear toys of different sizes as well as photographs of Eskimos dressed in their traditional hooded fur coats. They posted their request, crossed their fingers and waited for suppliers to come back with quotations.
Feedbacks from vendors came faster than they expected, and by the end of the day they already had more than enough quotations to work with. Pierre remembered the advice from their Canadian board game supplier about ordering from Chinese Gold Suppliers with Trade Assurance to ensure order protection for compliance with product quality, on-time shipment and refundable payment for covered amounts. He wanted to proceed and place an order with one of the Trade Assurance suppliers, but Denise preferred to move forward slowly and learn through trial-and-error. After much debate, they contacted several Trade Assurance vendors with sizable annual sales volumes to follow up on specifications before placing orders with them for samples items. Their plan was to find out more about these suppliers by comparing their samples and their service quality.
While the samples were free, Denise fretted over payment for freight and shipping charges. Fortunately, Alibaba.com offers customers secured payment service which supports multiple methods of settlement. She was glad she could pay their suppliers by credit card, and avoided the $15 transaction fee for e-checking or the $20 dollar bank and cable charges for telegraphic transfer. Because theirs were merely orders for sample items, payments were well within the limits of their suppliers' outstanding T/A amounts. They were reassured by the knowledge that Alibaba.com would refund the covered amounts of their payments if the quality or the quantities of goods they ordered did not comply with the terms and the specifications set out in their contracts, or if their suppliers failed to ship their goods by the dates set out in their contracts. They could file online complaints with Alibaba.com to apply for refund, or if they had problems with their vendors.
The samples ordered by Pierre and Denise were promptly delivered to their office by couriers within the next two weeks. They tried the miniature Eskimo hooded fur coats with plush polar bears in their inventory, and every one of them looked cuddly and cute. They are now ready to place a sizable order with one of the suppliers. With help from Alibaba.com, the siblings are confident they can pull off this feat. They know they have an interesting toy story to share with customers, and can give competitors with deep pockets a run for their money.